Save Your Western Conference of Teamsters Pension
Teamster members and retirees: we need your help!  We need you to join us in calling our U.S. Senators to let them know that The GROW Act is bad for working families and it needs to be defeated in the Senate!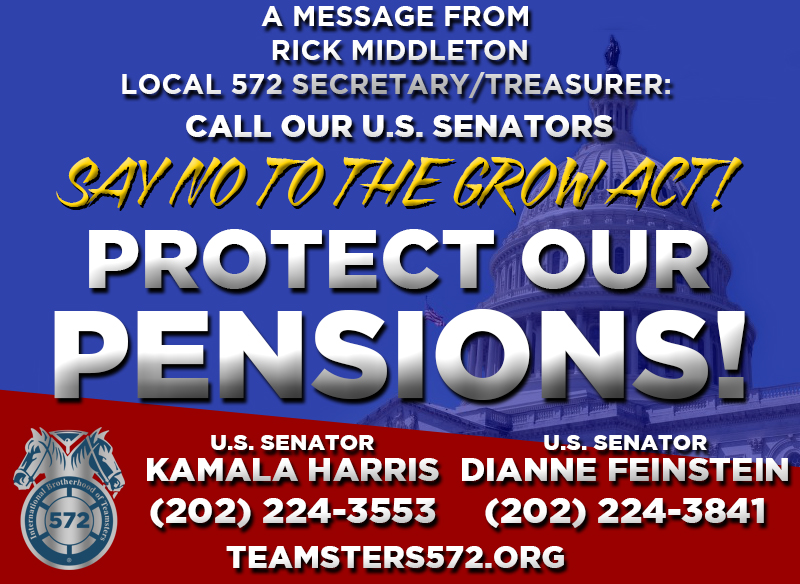 THE DEVASTATING FACTS OF GROW
Twelve unions, representing the majority of private-sector union members, including the International Brotherhood of Teamsters, oppose the GROW Act. So why have the House Democrats included it in their latest coronavirus relief bill?
The GROW Act hurts workers, retirees, employers, and the Pension Benefit Guaranty Corporation and should not become law.
The GROW Act is deeply flawed because it allows multiemployer plan trustees to "refinance" their obligations to workers and retirees in the existing pension plan over 25 years instead of 15 years, so they can divert money to create a new composite pension plan. This weakens the existing plan and leaves neither plan—the existing plan, nor the composite plan—with enough money to pay promised benefits.
The current public health and economic crisis illustrates the harm the GROW Act would inflict on Americans. If Congress had already passed the GROW Act and it was law now, workers in a previously healthy multiemployer pension plan that converted to a composite plan would face draconian benefit cuts. The benefits composite plan participants expected they would earn would be cut 70%, and the vested benefits they already earned would be cut 25%. At the same time, the vested benefits of workers in the existing plan would be cut 21%. To avoid benefit cuts, employers would be required to increase contributions by approximately 82%—above and beyond what they already committed.
Supporters of this terrible legislation claim that transitioning to a composite plan is voluntary. Composites plans are anything but voluntary. They undermine multiemployer defined-benefit pension plans by shifting risk from the plan sponsor (employer) to the worker, thereby creating an incentive for employers to flee defined-benefit plans. If GROW succeeds, it guarantees it will be an issue in every negotiation where unions currently have defined-benefit plans and result in a race to the bottom. The more than one million Teamsters who are essential workers risking their health to continue going to work amid the pandemic deserve to retire with dignity and financial security.