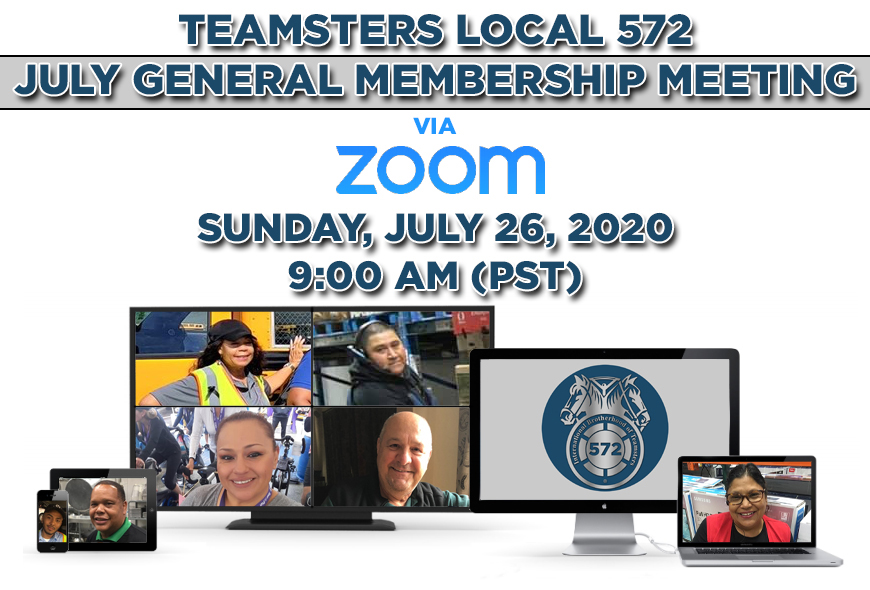 Teamsters Local 572's July 26, 2020 General Membership meeting, scheduled to be held via Zoom, will be an official membership meeting, complete with reports and updates.
When:              Sunday, June 26, 2020
Time:                9:00 A.M. (PST)
Where:             Zoom Webinar
Register at:       https://teamster-org.zoom.us/webinar/register/WN_ACFUwgYHRjCFhQnlKzC_jQ
MEMBER ID#:                                                  
YOU MUST REGISTER IN ADVANCE FOR THIS MEETING (WEBINAR). THE DEADLINE TO REGISTER IS WEDNESDAY, JULY 22ND.  YOU MAY CANCEL YOUR REGISTRATION AT ANY TIME.
Registration WITH your Member ID is required.  After registering, you will receive a confirmation email of your registration. You will later receive an approval email containing a unique link and information about joining the meeting.
We highly recommend joining on a computer or the Zoom mobile app (available for iPhone and Android) if possible, for the ability to vote, ask questions or make any comments. Those joining via phone call only may not have the functionality available to voice their comments, questions, or votes.
Click on the link to download Zoom on your computer or mobile device: https://zoom.us/download
If you have any questions, please contact Adriana Salazar Avila at asalazar@teamsters572.org or at (310) 365-7872.